Winx Club: Revenge of the Trix - Unknown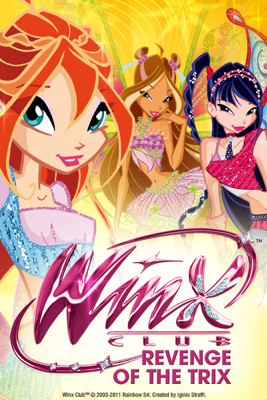 Bloom, Stella, Flora, Musa and Tecna are back with more otherworldy adventures in Winx Club: Revenge of the Trix! Bloom's home on her first school break, but the weird dreams she was having back at Alfea have come with her. And these dreams are trying to tell her something important! Good thing her fellow Winx have vowed to help Bloom learn what they mean. In the meantime, Bloom is learning about her home planet, her birth parents and her powers; Sky and Bloom are falling for each other, but Sky is supposed to marry Princess Diaspro; the evil Trix want something only Bloom has, so they follow her to Gardenia and will not leave without it! Will there be a showdown between Bloom and Diaspro? What will the other Winx find out about Bloom? Will the Trix finally get what they're after? So hang on, because it's all revealed here, in the magical, fantastical Winx Club: Revenge of the Trix!
© © 2011 Viacom Inc.